How to open a coconut?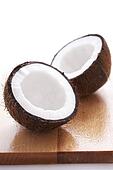 Have fun and experiment in the kitchen...
Drill three holes in you coconut to drain the "milk".
Then place the coconut on a baking sheet.
Bake for about 20 to 30 minutes at 320 F.
All the coconut cool for one half hour.
You will need a large hammer is needed to break the outer shell.
Peel off the harder dark skin.
Now you can go ahead and eat the white coconut.
Because Food Matters!
Make it! Eat it! Love it!